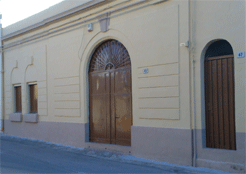 De Filippo farm was born in the second postwar period when Andrea, who was very fond of agriculture and wine growing especially, purchased new lands between Alezio and Sannicola by selling the product in the field. His passion and the pleasure of a good wine led him to tool up a little cellar to make wine.
As years went by, his son Girolamo purchased a wine factory near the place and supplied it with modern tools to guarantee a choice wine.
His grandson Andrea felt an urge to improve the product by adding the experience and tradition of his father and grandfather.
"RODOGALLO" wine was born in 2006 from those three generations. The wine is called after a quarter with the same name. The quarter is in San Simone ( a hamlet of Sannicola). This village was founded by a group of peasants in the 17th century. They built their houses near Saint Simon church that gave the village the name The quarter is so called from the X century when a few monks from the Near East called it "Rodogallo" (from Greek "beautiful roses") to mean land's fertility. The monks introduced wine culture in San Simone. Millenary experience and tradition improved and enriched this culture. Till today it play a leading role in the wine outline of Italy thank to its nearness of the Gulf of Gallipoli.
Andrea De Filippo - Azienda vitivinicola
Via G. Leopardi, 45 - 73017 - San Simone - Sannicola - Lecce - Puglia - Italia
Tel e Fax: (+39)0833.231769 - mobile: 348.5625895 - e-mail: info@cantinadefilippo.com