Andrea De Filippo's wine production centres on Salento's vineyards (Negramaro, the black Malvasia of Lecce and Primitivo).. Since 2006 the market has presented two labels: Rodogallo Rosso and Rodogallo Rosato and this year a new one: Rodogallo Primitivo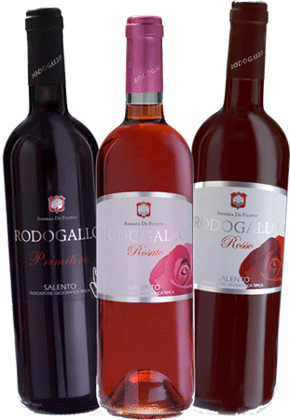 ENOTRIA 2008 Prize
Andrea De Filippo Winery won the ENOTRIA 2008 prize for the protection of traditional vineyards.
Would you to work with us?
We are trying to expand our market so we need business agents.
Competence, experience and motivation are required.
If you want to stand as a candidate or asking about you can use the references at the foot of the page.
The article on "Il Tacco d'Italia"
"Il Tacco d'Italia" magazine writes about us ...
Artful tasting - October 4th , 2007 - Alezio
You can taste our wines in a very particolar atmosphere.
Calici di stelle - August 10th, 2008 - Lecce
Andrea De Filippo Winery will be present at the tenth edition of "Calici di stelle" in Puglia. The event is created by the Tourism Movement of Puglia's wine for people very fond of wine and it will have the wonderful Barocco as scene.
Motore di ricerca
Sannicola, Lecce, Puglia, Turismo, vacanze in puglia, Salento, Gallipoli, vino salentino, vino, A.I.S., wine walk, wine, vino rosso, fermentazione, grado alcoolico, doc alezio, doc, igt, I.G.T. puglia igt puglia igt salento monaci basiliani mare sole vento
Andrea De Filippo - Azienda vitivinicola
Via G. Leopardi, 45 - 73017 - San Simone - Sannicola - Lecce - Puglia - Italia
Mobile: (+39)348.5625895 - e-mail: info@cantinadefilippo.com
Andrea De Filippo - Azienda vitivinicola si trova in Via G. Leopardi, 45 - 73017 - San Simone di Sannicola (lecce) Puglia Italy